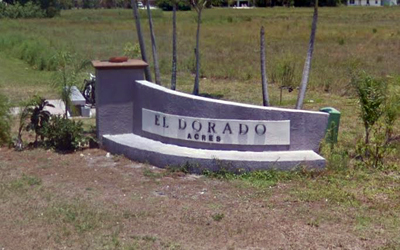 View All Eldorado Acres Listings
Amenities:

Small Community

No Maintenance Fees

Near Beaches

Near Boat Docks
El Dorado Acres is a unique community located just north of Coconut Road on El Dorado Boulevard, east of U.S. 41 and seconds away from the boat launch and beautiful beaches of the Gulf of Mexico. El Dorado Acres is a collection of less than 300 homes located within its own six streets running east and west with three streets running north and south. It borders the Raptor Bay Golf Course on the west and Meadowbrook on the east. Although this is not a gated community it is fairly private since there are no through routes and the only traffic in and out of the community are residents or their guests.
Comfortable and Familiar
This is one of the older communities in Estero with homes dating back to the late 1970s. El Dorado Acres features mature landscaped neighborhoods, tree-lined roads, and several torn down and rebuilt or renovated and upgraded homes as well. The price for homes in this community runs the gamut from $100,000 up to about $400,000 depending on the size, amenities, location and number of acres of the homes. Just about every home is set on large lots—a nice and unusual feature for Estero. You'll find a variety of layouts from two and three bedroom homes at around 1,200 to 1,500 square feet to possibly larger homes at over 3,500 square feet with three to five bedrooms.
These homes are closer to the beach meaning the natural bird and wildlife is prevalent throughout the natural foliage and native trees interspersed throughout El Dorado Acres. Those that choose this wonderful community for their next home do so for the location and the price. Having an established neighborhood means many amenities are already constructed like fenced backyards and mature landscaping. Those that choose El Dorado Acres may also enjoy the close proximity to the boat docks and comfortable neighborhood environment.
El Dorado Acres is also an ideal spot for investors and those looking for second homes and rental income.
If you'd like to look at any of the current homes for sale in El Dorado Acres located on the west side of Estero, Florida, call our office today or view the current listings below.