Home Improvement Trends of 2014
Posted:
There is one trend that's going to make a lot of noise when prospective buyers look for new homes in 2014, according to the Wall Street Journal.
Forget about a spacious kitchen being number one on the average homebuyer's list.
The demand for his-and-her bathrooms is higher than ever and I can attest to that from endless hours watching House Hunters on HGTV. More and more married couples, who are getting ready for work around the same time, do not want to climb over each other in the morning to brush their teeth—and we don't blame them!
Master baths have "become part of a living space and less of a functional space," says Austin DePree, a founding partner with Northworks Architects + Planners in Chicago. "It's similar to the evolution that kitchens have gone through in the last 15 to 20 years."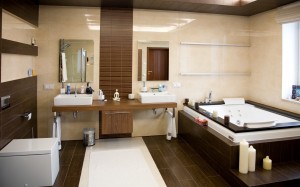 His-and-her Bathrooms
This trend first appeared in the highest end of luxury homes, according to the article.
Some developers also say the size of master bedrooms has increased in recent years to make room for more couple friendly features.
In fact, a recent survey by the National Association of Home Builders found that 6 percent of buyers consider his-and-her baths essential, and 18 percent insist on a private toilet compartment.
Men tend to focus on showers, while women usually want relaxing tubs. Other couples want spaces big enough for the two of them to share. They are requesting large shower areas with two shower heads and multiple body sprays. Other sought after upgrades include separate toilet spaces—or even two facing toilets. Vanities and steam showers with seating areas are also in demand.
Other Home Improvement Trends of 2014 to Look Out For
If there are any two people who know about home design, it is the Property Brothers from HGTV. Drew and Jonathan Scott star in three shows on HGTV.
One of their current favorite trends is mixed materials.
Mixed Materials
Jonathan says he loves blending more modern elements with touches of vintage and a lot of repurposed materials.
"I love creating a space with character and having something that's functional for today but doesn't feel cold and too modern," Jonathan Scott said.
Speaking of cold, Drew is not a fan of "chilly modern".
Chilly Modern
"One of the things that I really don't like is when people say they want something that feels modern and slick, but it has no personality. I just think it looks cold and cheap. I also don't like it when someone wants a room that's all vintage. It ends up just looking old. A few vintage pieces goes a long way," Drew Scott said.
The Outdoor Room is a Favorite Trend for 2014
Sometimes it's not cost effective or feasible to do a full renovation to your living room. So why not bring your indoor space outside and turn your patio area into an extension of your indoor living space?
"We've been enjoying doing that. It's very cost effective and nowhere near the cost of an addition, but you're creating this great entertainment space for having family together or friends over," Jonathan Scott said.
Emerging Trend: Sleek, New Technology
"There's a drinking game you can play when you're watching HGTV. Whenever someone says 'granite' and 'stainless,' take a drink. You'll be drunk by the first commercial break," Jonathan Scott said. "I think that will change. What I see happening is a new wave of white appliances. Not the generation of cheap white appliances, but very cool white glass refrigerators that you can check your e-mail on. Or a refrigerator that will keep track of what items you need and tell you. Technology is getting less expensive, so I think you'll start seeing more of this."
There you have it, ladies and gentlemen. We hope you enjoyed reading about the home improvement trends of 2014 as much as we enjoyed writing about them.
Comment and let us know what your favorite home improvement trend of 2014 is!