New Hertz Headquarters Site Plan Revealed
Posted: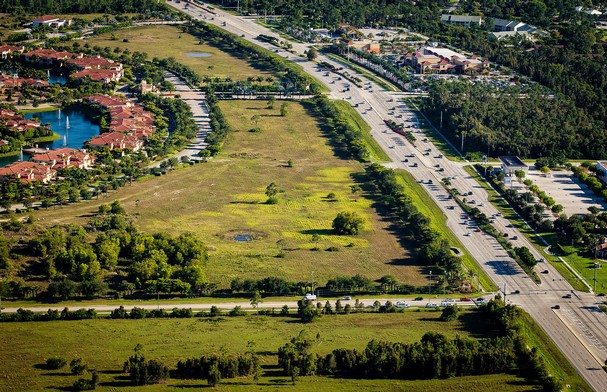 The Hertz Corporation has been located in New Jersey for years, but now the company and the newly acquired Thrifty Rental Cars are moving.  The new Hertz headquarters will be right here in Estero, on a 34.5 square acre parcel at the intersection of U.S. 41 and Williams Road.  There will be three gated entrances, with the main entrance on Williams Road.  Hertz deliberately made the entrance as far as possible from its nearest neighbor, The Club at Rapallo.  There will also be an entrance on Via Villagio with key-card access for employees, and a service entrance will be located on U.S. 41.
The site plan for the new Hertz headquarters was recently revealed, at an Estero Community Planning Panel meeting.  Dan Wisk, the vice president of facilities and construction for Hertz, said the company's building will be 300,000 square feet.  Construction on the new Hertz headquarters, with a price tag of $50 million, will begin in September, and it is expected to take two years to complete.  In the late fall and early winter, Hertz's senior employees will begin moving to a temporary headquarters in Naples.
Residents at Rapallo have voiced concerns about the size of the project and are worried that the building might block their view of the sunset.  Wisk said "We want to be good neighbors, that's why we chose the northwest corner to get the main building as far away from Rapallo."  He also added that the building will have a maximum height of 55 feet.  After hearing the new information, Rapallo resident Guy Saunders said the gated community supports Hertz's plans.
Wisk also said that the new Hertz headquarters will have parking lots on the south and east sides of its main building, with over 1,000 spots total.  The company plans to do landscaping and may provide solar panels.  Hertz also plans on building a car lot along U.S. 41, which would sell and lease up to 50 cars.  The lot will have a 5,000 square foot building.