Step Right Up. Get Your King Cake
Posted:
The week before Lent is an excuse to whip up traditional desserts like King Cake, according to this article by the Naples Daily News.
King Cake has close ties with Mardi Gras, the traditional party before the Christian penitential season of Lent. The delicious cake is made from dough filled with cinnamon and nuts and iced with the Mardi Gras colors of purple, yellow and green.
The sweet bread cake, however, is baked with a surprise inside. And the lucky person who gets the slice containing the plastic baby is "king for the day." That person is also known to be rewarded with good luck but is obliged to host the party the following year.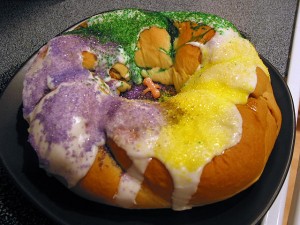 This recipe from the Daily News is easy-to-make and a party favorite on "Fat Tuesday".
Cakes may be ordered at Wynn's Market at 141 U.S. 41 N. in Naples (239-261-7157), and the plastic babies are sold at Michaels, located at 2253 Pine Ridge Road in Naples, for a package of six for $2.99.
King Cake Coffee Cake
Filling ingredients
1/2 cup brown sugar
3 tablespoons all-purpose flour
1/2 cup chopped pecans
11/2 teaspoons ground cinnamon
Cake batter ingredients
1 box of yellow cake mix
3 large eggs
1/3 cup sour cream
1/3 cup vegetable oil
2/3 cup water
Icing ingredients
3 cups powdered sugar
4-5 tablespoons milk
1 teaspoon almond extract
1 plastic baby
Green, gold and purple colored sugar
Preparation of cake
1 Preheat the oven to 350F.
2 Spray a bundt pan with cooking spray and make sure to coat it well so the cake does not stick.
3 Make the cinnamon sugar filling by combining the filling ingredients in a small bowl and stirring well.
4 Set aside.
5 In a mixing bowl, combine cake batter ingredients and beat on low for 30 seconds.
6 Scrape down sides then beat on high for two minutes.
7 Pour half of cake batter into bundt pan, and sprinkle the cinnamon sugar filling mixture over the cake batter in the pan and drop in the baby. (Be sure the baby is not close to the sides of the pan.)
8 Pour in the rest of the cake batter to cover the filling and the baby.
9 Bake the cake for 30-35 minutes or until an inserted pick comes out clean.
10 Cool for 15 minutes then invert the cake on to a plate. Allow the cake to cool completely before icing.
Preparation of icing
1 The icing should be very thick and just pourable.
2 Stir the milk and almond extract into the powdered sugar.
3 Drizzle icing over the cake slowly to coat as much of the surface as possible.
4 Sprinkle the iced cake with bands of green, gold, and purple colored sugar.
5 Serve and enjoy your own little slice of Mardi Gras.